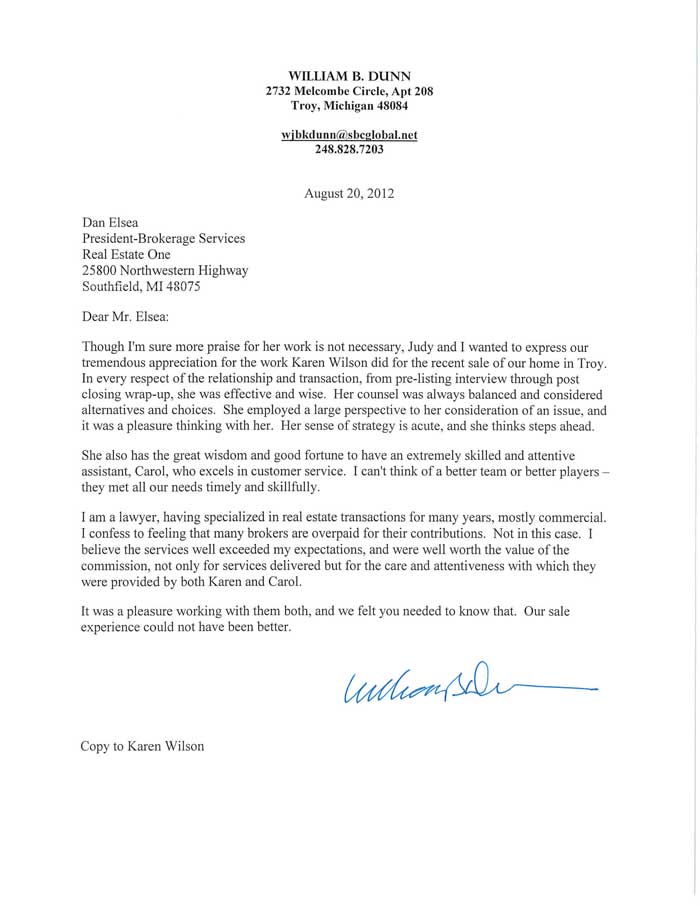 Though I'm sure more praise for her work is not necessary, Judy and I wanted to express our tremendous appreciation for the work Karen Wilson did for the recent sale of our home in Troy. In every respect of the relationship and transaction, from pre-listing interview through post closing wrap-up, she was effective and wise. Her counsel was always balanced and considered alternatives and choices. She employed a large perspective to her considerations of an issue, and it was a pleasure thinking with her. Her sense of strategy is acute, and she thinks steps ahead.
She also has the great wisdom and good fortune to have an extremely skilled and attentive assistant, Carol, who excels in customer service. I can't think of a better team or better players – they met all our needs timely and skillfully.
I am a lawyer, having specialized in real estate transactions for many years, mostly commercial. I confess to feeling that many brokers are overpaid for their contributions. Not in this case. I believe the services well exceeded my expectations, and were well worth the value of the commission, not only for services delivered but for the care and attentiveness with which they were provided by both Karen and Carol.
It was a pleasure working with them both, and we felt you needed to know that. Our sale experience could not have been better.