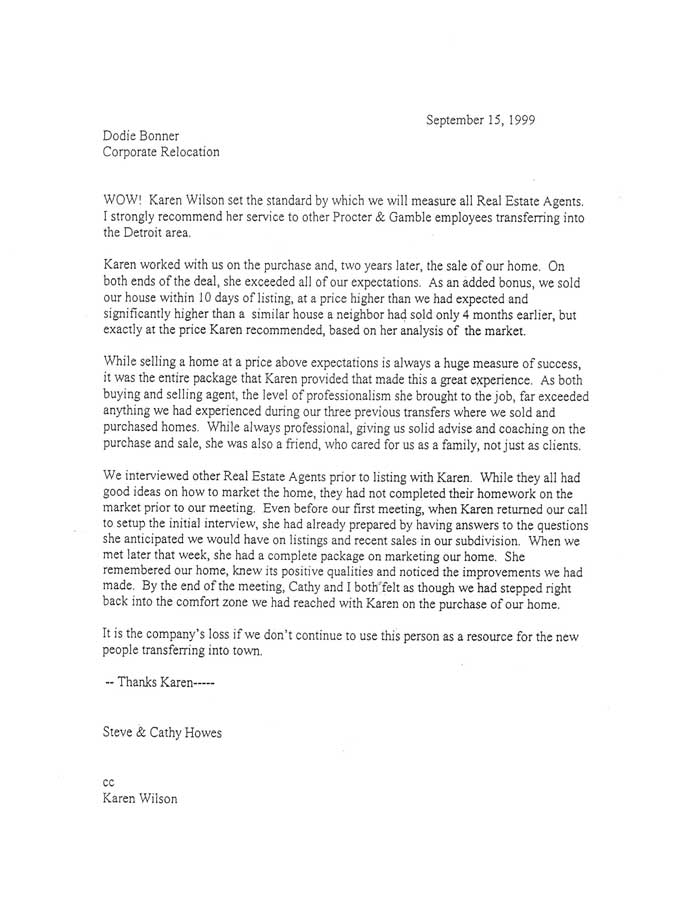 WOW! Karen Wilson set the standard by which we will measure all Real Estate Agents.  I strongly recommend her service to other Procter & Gamble employees transferring into the Detroit area.
Karen worked with us on the purchase and, two years later, the sale of our home.  On both ends of the deal, she exceeded all of our expectations.  As an added bonus, we sold our house within 10 days of listing, at a price higher than we had expected and significantly higher than a similar house a neighbor had sold only 4 months earlier, but exactly at the price Karen recommended, based on her analysis of the market.
While selling a home at a price above expectations is always a huge measure of success, it was the entire package that Karen provided that made this a great experience.  As both buying and selling agent, the level of professionalism she brought to the job, far exceeded anything we had experienced during our three previous transfers where we sold and purchased homes.  While always professional, giving us solid advice and coaching on the purchase and sale, she was also a friend, who cared for us as a family not just as clients.
We interviewed other Real Estate Agents prior to listing with Karen.  While they all had good ideas on how to market the home, they had not completed their homework on the market prior to our meeting.  Even before our first meeting, when Karen returned our call to setup the initial interview, she had already prepared by having answers to the questions she anticipated we would have on listings and recent sales in our subdivision. When we met latter that week, she had a complete package on marketing our home.  She remembered our home, knew its positive qualities and noticed the improvements we had made.  By the end of the meeting, Cathy and I both felt as though we had stepped right back into the comfort zone we had reached with Karen on the purchase of our home.
It is the company's loss if we don't continue to use this person as a resource for the new people transferring into town.