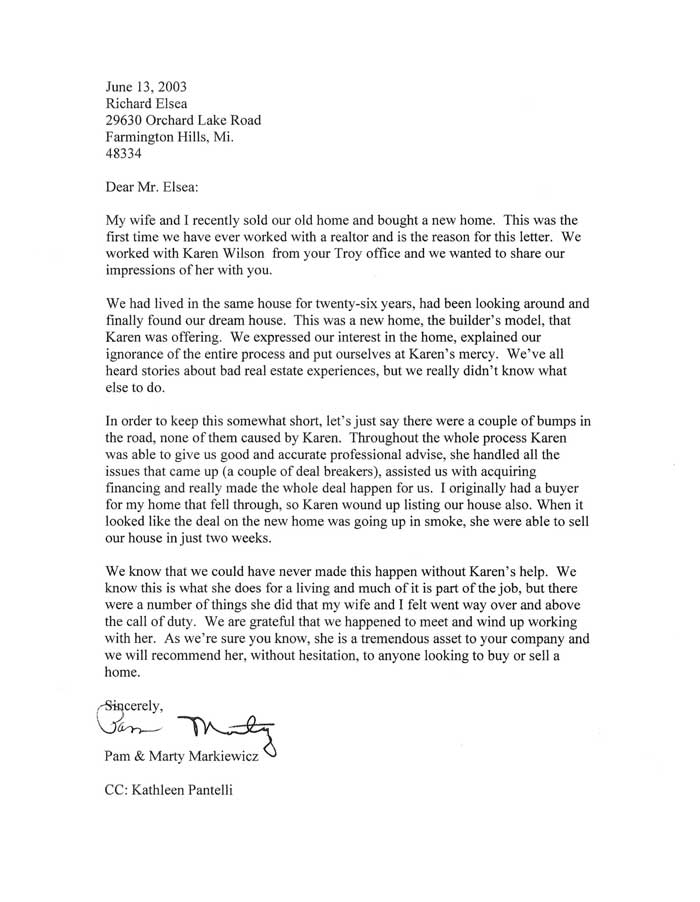 My wife and I recently sold our old home and bought a new home.  This was the first time we have ever worked with a realtor and is the reason for this letter.  We worked with Karen Wilson from your Troy office and we wanted to share our impressions of her with you.
We had lived in the same house for twenty-six years, had been looking around and finally found our dream house.  This was a new home, the builder's model, that Karen was offering.  We expressed our interest in the home, explained our ignorance of the entire process and put ourselves at Karen's mercy.  We've all heard stories about bad real estate experiences, but we really didn't know what else to do.
In order to keep this somewhat short, let's just say there were couple of bumps in the road, none of them caused by Karen.  Throughout the whole process Karen was able to give us good and accurate professional advise, she handled all the issues that came up (a couple of deal breakers), assisted us with acquiring financing and really made the whole deal happen for us.  I originally had a buyer for my home that fell through, so Karen wound up listing our house also.  When it looked like the deal on the new home was going up in smoke, she was able to sell our house in just two weeks.
We know that we could have never made this happen without Karen's help.  We know this is what she does for a living and much of it is part of the job, but there were a number of things she did that my wife and I felt went way over and above the call of duty.  We are grateful that we happened to meet and wind up working with her.  As we're sure you know, she is a tremendous asset to your company and we will recommend her, without hesitation, to anyone looking to buy or sell a home.