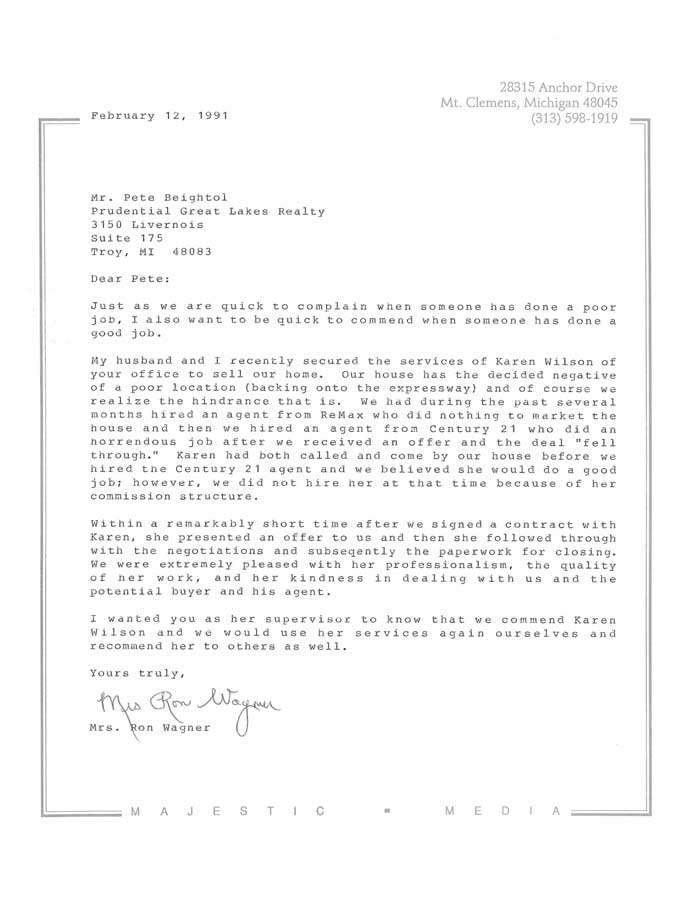 Just as we are quick to complain when someone has done a poor job, I also want to be quick to commend when someone has done a good job.
My husband and I recently secured the services of Karen Wilson of your office to sell our home.  Our house has the decided negative of a poor location  (backing onto the expressway) and of course we realize the hindrance that is.  We had during the past several months hired an agent from ReMax who did nothing to market the house and then we hired an agent from Century 21 who did an horrendous job after we received an offer and the deal "fell through."  Karen had both called and come by our house before we hired the Century 21 agent and we believed she would do  good hob; however, we did not hire her at that time because of her commission structure.
Within a remarkably short time after we signed a contract with Karen, she presented an offer to us and then she followed through with the negotiations and subsequently the paperwork for the closing.  We were extremely pleased with her professionalism, the quality of her work, and her kindness in dealing with us and the potential buyer and his agent.
I wanted you as her supervisor to know that we commend Karen Wilson and we would use her services again ourselves and recommend her to others as well.