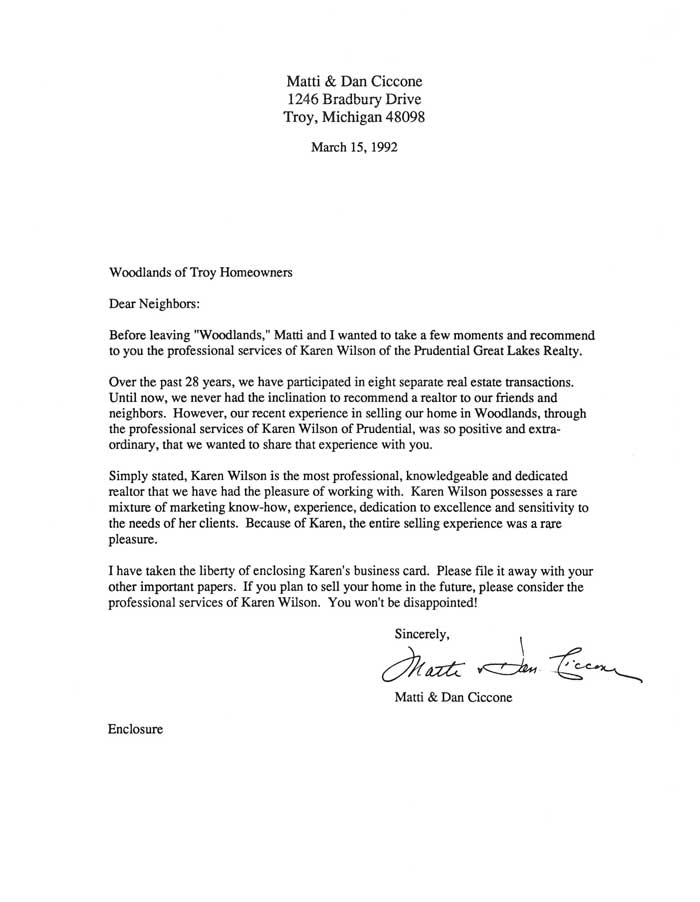 Before leaving "Woodlands", Matti and I wanted to take a few moments and recommend to you the professional services of Karen Wilson of the Prudential Great Lakes Realty.  Over the past 28 years, we have participated in eight separate real estate transactions.  Until now, we never had the inclination to recommend a realtor to our friends and neighbors.  However, our recent experience in selling our home in Woodlands, through the professional services of Karen Wilson of Prudential, was so positive and extra-ordinary, that we wanted to share that experience with you.
Simply stated, Karen Wilson is the most professional, knowledgeable and dedicated realtor that we have had the pleasure of working with.  Karen Wilson possesses a rare mixture of marketing know-how, experience, dedication to excellence and sensitivity to the needs of her clients.  Because of Karen, the entire selling experience was a rare pleasure.
I have taken the liberty of enclosing Karen's business card.  Please file it away with your other important papers.  If you plan to sell your home in the future, please consider the professional services of Karen Wilson.  You won't be disappointed!